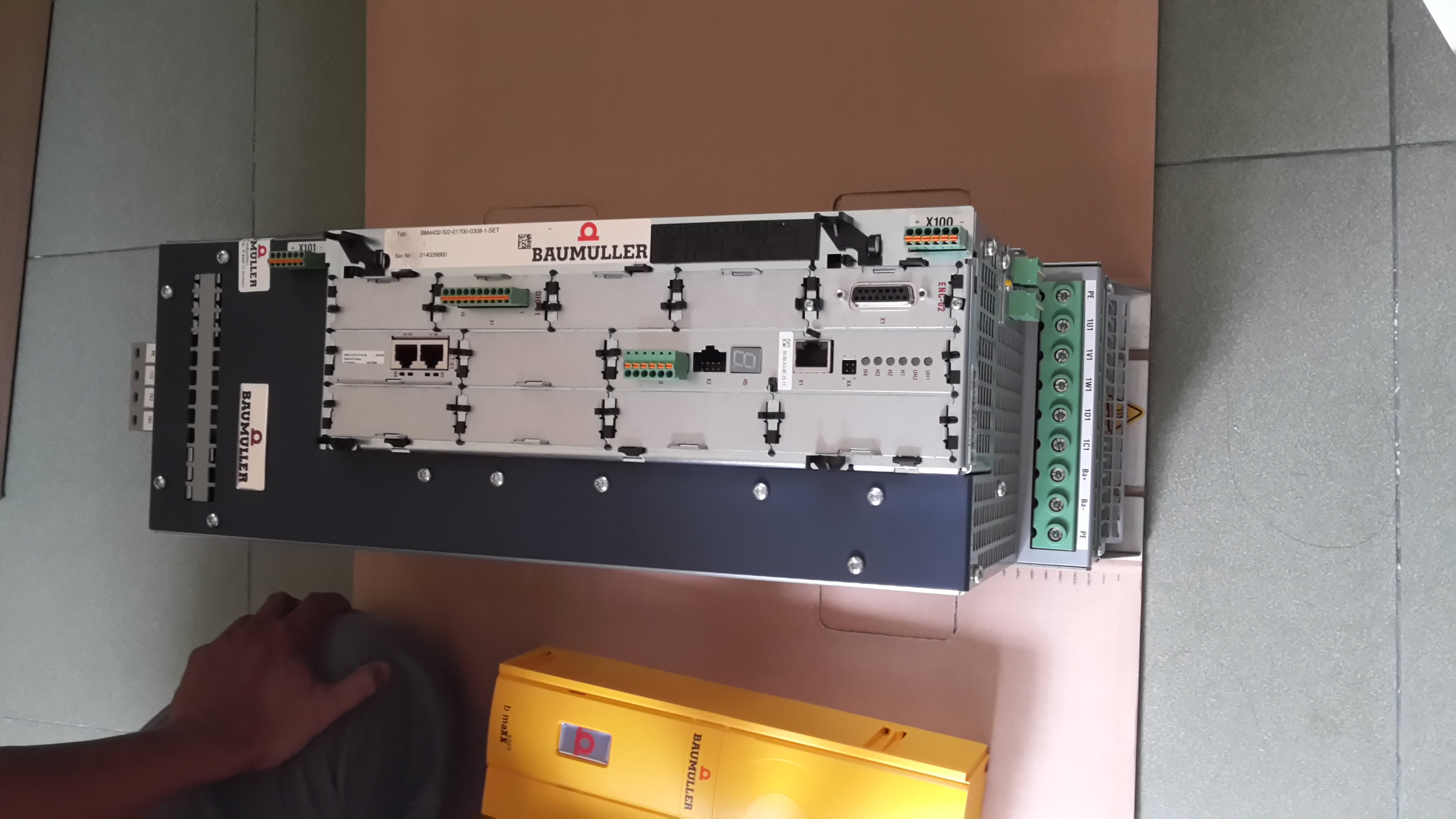 : BM5323-SG04-0100-0106-00-01-#01 Ser.No.: 312006848
Hãng sản xuất: Baumüller
Liên hệ tư vấn

support@ansgroup.asia
0908016350

quynhtrang.ans
Replaced by: SET-BM4443-SI2-01700-0308-1
Ser.No.: 312008424
replacement unit incl. cards, 1 pcs. each ENC01, DIO01, ECT01, PSI01
(BM4443-SI2-01300-0308-1
Art No: 00418716)
Replaced by: SET-BM4432-SI2-01700-0308-1
Ser.No.: 312009960
replacement unit incl. cards 1 pcs. each ENC02, DIO01, ECT01, PSI01
(BM4432-SI2-01300-0308-1
Art No: 00418819)
Replaced by: SET-BM4412-ST1-01300-0308-1
Ser.No.: 312007568
repalcement unit incl. cards, 1 pcs. each ENC02, DIO01, ECT01, PSI
(BM4412-ST1-01300-0308-1
Art No: 00418702)
Replaced by: SET-BM4423-SI1-01700-0308-1
Ser.No.: 312008417
repalcement unit incl. cards, 1 pcs each DIO01, ECT01, PSI01
(BM4423-SI1-01300-0308-1
Art No: 00419548)
BM5032-SG00-0000-0000-00-01
Note: Please confirm the code
Replaced by: BM5323-SG04-0100-0106-00-01-#01
Ser.No.: 312006848
replacement unit without cards
(BM5323-SG02-0100-0101-00-01
Art No: 06500138
Seri No: 312006848)
Type: DA 132 B 54 A 17 5 (DA132B54A17-5)
Ser.No.: 21202346
Type: DSG 100 S 25 (DSG100-S25)
Ser.No.: 21203800
DSD036S65U6054
ID No: 00419507
Seri No: 412005202
Note: Please confirm the code
DSD028M65U6054
ID No: 00431940
Seri No: 421005310
Note: Please confirm the code
b maXX 5000
Side-by-side, flexible, and energy-efficient servo converter
Baumüller sets standards with the converter generation b maXX 5000. The further development of the successful b maXX series towards modular systems convinces with high-performance power units in air-cooled, water-cooled and cold plate cooling versions and with flexible expandability and the accessibility to an integrated communication concept. Standardized as well as complex automation solutions can be implemented with Baumüller's converters and controllers within a power range between 1 and 90 kW.
The machine and installation requirements with regard to future reliability, flexible expansion possibilities and a simple adjustment to changed production processes were already considered during the preliminary development process stages of the b maXX 5000.
Individual modules easily can be removed or added over an integrated drive connect system without having to disconnect the entire drive system.
Safety:
Plug-in module, optionally with or without safety functions
Three different safety modules with scalable functionality
All modules with integrated parameter memory for safe and unsafe data
Safety functions according to IEC 61800-5-2
Power output for motor brake
Choice of safety functions via local safe I/O or EtherCAT FSoE
---
Technical data b maXX 5000 Mains rectifier units
Supply voltage: 207–528 V ± 0% AC, supply frequency: 50/60 Hz
Electronics supply: external 24 V DC
Rated supply voltage: 400 V
Rated DC link voltage: 540 V
Certification: CE, cUL
Height and depth without mounting brackets.
1) Depth air cooling / depth Coldplate
2) Depth water cooling
*) in preparation
Subject to change
---
Technical data b maXX 5100 Mains regenerative feedback units
Supply voltage: 207–528 V ± 0% AC, supply frequency: 50/60 Hz
Electronics supply: external 24 V DC
Rated supply voltage: 400 V
Rated DC link voltage: 640 V
Certification: CE, cUL
Height and depth without mounting brackets.
1) Depth air cooling / depth Coldplate
2) Depth water cooling
*) in preparation
Subject to change
---
Technical data b maXX 5300 Axis units
Supply voltage: 207–528 V ± 0% AC, supply frequency: 50/60 Hz
Electronics supply: external 24 V DC
Clock frequency: 4 / 8 kHz
Certification: CE, cUL
Load cycles acc. to EN 61800
Height and depth without mounting brackets.
1) Depth air cooling / depth Coldplate
2) Depth water cooling
*) in preparation
Subject to change
---
Fieldbus systems

*) in preparation
---
Downloads
494, 4.47 MB